This product is available in our stores
You can buy this product without placing an order online at one of our stores in your area. Check where the product is in stock.
Check availability
Nanoray 750 to model przeznaczony dla zawodników poszukujących rakiety dającej dużą kontrolę przy szybkich i mocnych uderzeniach.


Diagram Wyboru rakiet badmintonowych YONEX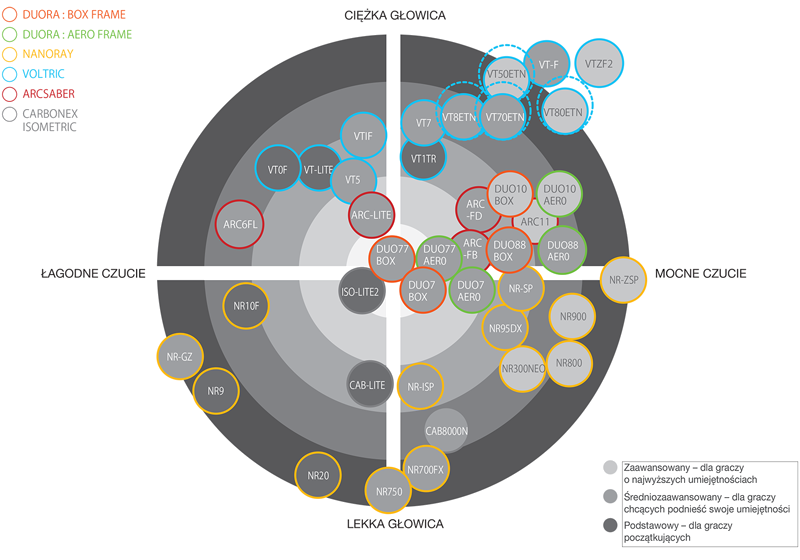 TECHNOLOGIE:
Built-in T-Joint - Wtopiony w warstwy grafitu, w miejscu gdzie głowica łączy się z shaftem dostarcza mocnego połączenia odpornego na skręcanie.
Power Boost Cap - Power Boost Cap łączy twarde oraz miękkie materiały w celu wygięć shaftu bez utraty  stabilności uderzeń. 
ISOMETRIC - Izometryczny kształt głowicy rakiety maksymalizuje obszar przecięcia się strun głównych i poprzecznych, tym samym powiększa pole aktywnego trafienia nawet dla niecentrycznych uderzeń.
Balans

:

GH

Konstrukcja

:

Średnio sztywna

Pokrowiec

:

Pełny

Waga

:

3U (85g-89.9g)

Główka

:

Isometryczny kształt główki

Wyważenie

:

Na rączkę

Systemy

:

X-Fullerene

Charakterystyka

:

Czucie

,

Dla zaawansowanych

Owijka

:

Fabryczna

Przeznaczenie

:

Seniorzy

Naciąg

:

Brak