This product is available in our stores
You can buy this product without placing an order online at one of our stores in your area. Check where the product is in stock.
Check availability
Wilson Steam 105S z układem strun 16 x 15 to rakieta zaprojektowana dla tenisistów szukających manewrowej rakiety z dużym sweet spotem. Balans 32,5 cm gwarantuje większą manewrowość zapewniając większy komfort gry. 105 calowa główka posiada większy sweet spot zapewniając wyższy komfort gry przy uderzeniach niecentrycznych.
Rakieta jest kompatybilna z technologią Sony Smart Tennis Sensor.
Technologie:
AMPLIFEEL 360 TECHNOLOGY
Technologia zapewnia ulepszone czucie tym samym poprawiając moc rakiety i redukując jej wagę dzięki rączce, która w całości składa się z bazaltu.
PARALLEL DRILLING
Technologia zmniejsza tarcie naciągu o gromet co pozytywnie wpływa na jego trwałość. To rozwiązanie pozwala również zwiększyć pole efektywnego trafienia piłki. 




BLX TECHNOLOGY
Technologia oparta na zastosowaniu bazaltu - naturalnej skały wulkanicznej. Materiał ten za pomocą licznych włókien tłumi wibracje, co znacznie poprawia komfort gry oraz kontrolę.
SPIN EFFECT TECHNOLOGY

Opatentowana przez firmę Wilson technologia, która dzięki rzadszemu rozmieszczeniu strun naciągu pozwala nadawać piłce większą rotacje niż w przypadku tradycyjnego rozwiązania.
DOUBLE HOLE TECHNOLOGY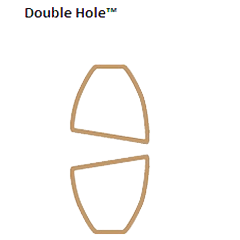 Powiększone otwory do przeciągania strun, aby zwiększyć dynamikę i moc uderzeń.
Balans

:

GH

Pokrowiec

:

Brak

Przeznaczenie

:

Gracze Zaawansowani/ Turniejowi

Rek. siła naciągu

:

22 - 26 kg

Waga

:

289 gramów

Główka

:

105 in2 / 677 cm

Wyważenie

:

325 mm

Ilość strun

:

16 x 15

Owijka

:

Fabryczna

Naciąg

:

fabryczny

Przedział wagowy

:

280 - 300 g

Wielkość główki

:

102 cale i więcej