Najnowsza seria halowych butów firmy Asics GEL-TASK! Cholewka stabilizuje kostkę i zapobiega kontuzjom.
Technologie:
Rearfoot GEL Cushioning Systems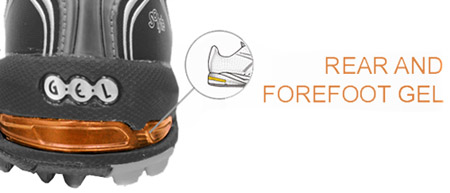 REARFOOT AND FOREFOOT GEL - System amortyzujący ASICS Gel jest najbardziej znaną technologią firmy. Aby dostarczyć największej absorpcji wstrząsów, jednostki Gel zostały strategicznie ulokowane w środkowej części podeszwy buta. Do systemu amortyzującego ASICS Gel używa się różnych materiałów. W zależności od funkcji jednostki Gel zawierają silikon zamknięty w poliuretanowych kapsułkach . Kształt jednostek Gel także jest precyzyjnie projektowany w zależności od specyfiki funkcji i pozycji w podeszwie buta.
I.G.S. - IMPACT GUIDANCE SYSTEM

I.G.S. - IMPACT GUIDANCE SYSTEM - Opracowany przez ASICS system jest rozwiązaniem, dzięki któremu zachowana jest możliwość naturalnych ruchów stopy. Ten rewolucyjny wieloskładnikowy system daje stopom swobodę, dzięki której możesz wykorzystać swój pełen potencjał sportowy. System wspomaga ruch w sposób, który można podzielić na 3 fazy.
Faza 1: Kontakt - Faza amortyzacji, w której stopa uderza o podłoże. W tej fazie stopę chroni Rearfoot GEL™ Cushioning System. Ten system silikonowej podeszwy łagodzi wstrząs, którego stopa doświadcza podczas uderzenia. System SpEVA zapewnia większe łagodzenie wstrząsu, dłuższą wytrzymałość oraz lepsze odbicie.
Faza 2: Środkowa faza podparcia - Stopa w całości przylega do podłoża. W tej fazie zaawansowane technologie stabilizują stopę. Technologia DuaMax™ o większej gęstości, znajdująca się w podeszwie środkowej, pomaga usprawnić ruch. System Asics Trusstic™ to element stabilizujący, który łączy tylną i przednią część buta i wzmacnia śródstopie. Technologia Dynamic Cradle™ w podeszwie środkowej buta przygotowuje stopę do sprawnego odbicia.
Faza 3: Przetaczanie - Pięta unosi się, a ciało przesuwa się do przodu. W tej końcowej fazie cyklu chodu stopa korzysta z Forefoot GEL™ Cushining System, który współdziała z rowkami w podeszwie w przedniej części buta, by usprawnić przetaczanie. Technologia Biomorphic Fit™ redukuje efekt odkształcania materiału i zapewnia większą wygodę i wydajność. DuoSOLE™, unikatowy produkt Asics w podeszwie zewnętrznej, gwarantuje lepszą elastyczność, przyczepność i niezwykłą lekkość.


Trusstic system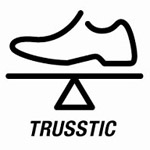 Ekologiczny komponent znajdujący się pod częścią środkową podeszwy buta. Wspomaga kontrolę nadmiernej pronacji poprzez kombinację silnie wypoziomowanych warstw podeszwy środkowej. Obniża wagę całej konstrukcji podeszwy.


 
NC Rubber Outsole

Podeszwa wyprodukowana z bardziej naturalnych komponentów niż tradycyjne gumowe podeszwy - zapewnia maksymalną przyczepność.


California Slip Lasting
Górna część  materiału została zszyta ze wstawką EVA i łączy się podeszwą środkową, w celu podwyższenia stabilizacji i komfort użytkowania.



Open Mesh Upper

Elementy cholewki wykonane z przewiewnej siatki wspomagają proces wentylacji.
Size chart
| Size | Adidas- Mens/Kids (cm) | Asics - Womens (cm) |
| --- | --- | --- |
| 36 | 22,5 | - |
| 37.5 | 23,5 | 23,5 |
| 38 | 24,0 | 24,0 |
| 39 | 24,5 | 24,5 |
| 39.5 | - | 25,0 |
| 40 | 25,0 | 25,5 |
| 40.5 | 25,5 | 25,75 |
Instrukcja pomiaru stóp i zestawy miar:
Wszystkie pomiary najlepiej wykonać centymetrem krawieckim
DS (długość stopy w cm) tę miarę można wykonać opierając piętę o stały przedmiot, podając długość stopy do końca palców.
UWAGA: Długość stopy należy podać dokładnie, bez 'zapasu'!