This product is available in our stores
You can buy this product without placing an order online at one of our stores in your area. Check where the product is in stock.
Check availability
Voltric 50 E-tune to model dla ofensywnych graczy. Zapewni najwyższą moc uderzeń.
NIESAMOWITA SIŁA I MANEWROWOŚĆ

VOLTRIC to kombinacja niesamowitej siły, zdumiewającej łatwości manewrowania, wprowadzi cię na zupełnie nowy poziom.
Sztywniejsze części ramy zwiększają sztywność rakiety, natomiast najbardziej obciążona głowica rakiety w całej serii Voltric dostarcza czysty i mocny zamach podczas silnego smeczu. Aby zrównoważyć ciężką głowicę rakiety, została ona zmniejszona, aby móc wykonać szybki zamach wymagany przez zaawansowanych graczy.
Diagram Wyboru rakiet badmintonowych YONEX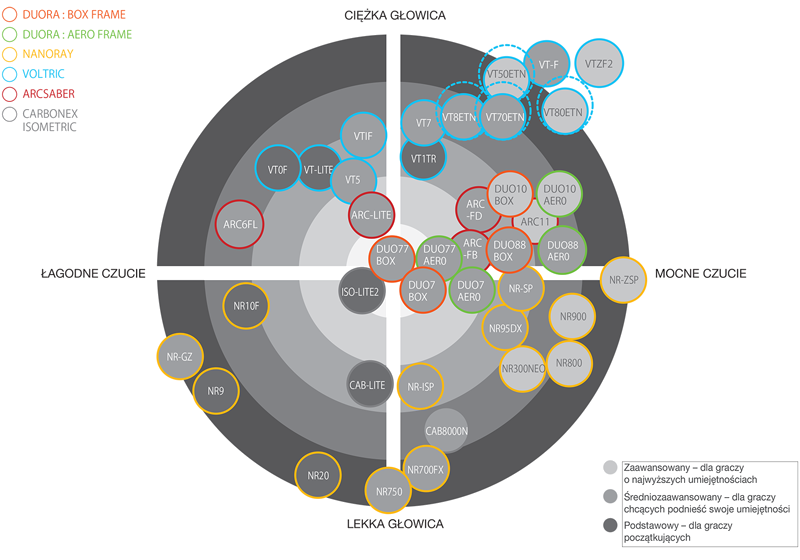 TECHNOLOGIE:
TRI-VOLTAGE SYSTEM
Sztywna konstrukcja rakiety w górnej części główki pozwala lepiej kontrolować lotkę. Natomiast cieńsza rama w bocznych częściach główki pozwala lepiej przenosić energie uderzenia i redukuje opór powietrza, zapewniając tym samym wysoką moc ataku.
ISOMETRIC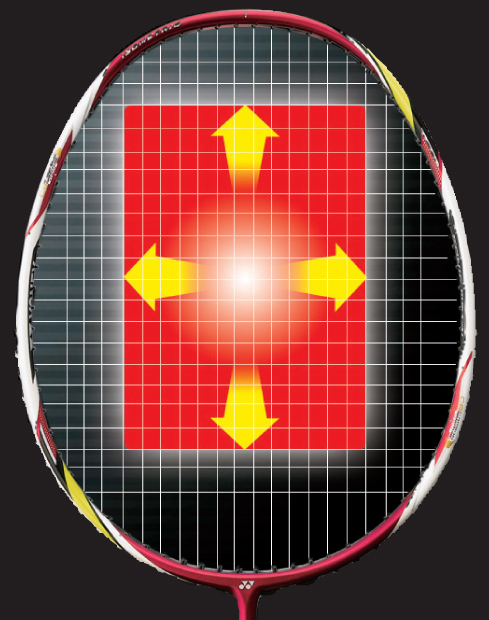 Izometryczny kształt główki zapewnia o 32% większy obszar efektywnego trafiania w porównaniu do tradycyjnych modeli. Sztywna konstrukcja, oraz wysoka manewrowość czyni rakietę świetnym wyborem do gry ofensywnej.
NEW GROMMET PATTERN
Nowy system przelotek, który wykorzystuje większą ilość otworów zapewnia bardziej wydajne wykorzystanie naciągu.
AERO + BOX FRAME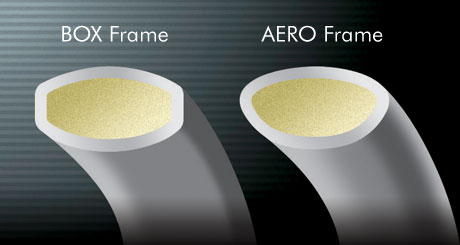 Tak wykonana rama łączy szybki zamach oraz wysoką dokładność uderzeń.
POWER BOOST CAP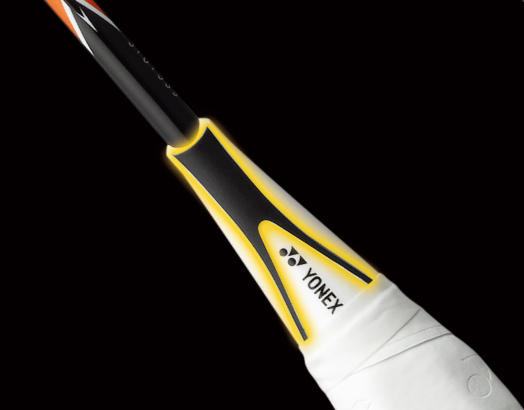 Mieszanka twardych i miękkich materiałów zapewnia maksymalną moc uderzeń bez utraty sztywności ramy oraz kontroli nad lotką.
Balans

:

HH

Konstrukcja

:

Frame: H. M. Graphite, NANOMETRIC, Tungsten | Shaft: H. M. Graphite, Ultra PEF

,

Sztywna

Pokrowiec

:

Pełny

Waga

:

4U (80g-85g)

Charakterystyka

:

Czucie

Systemy

:

TRI-VOLTAGE SYSTEM

,

E-Tune Energy Tune

Owijka

:

Fabryczna

Przeznaczenie

:

Seniorzy

Naciąg

:

fabryczny