Voltric 1 to ofensywna rakieta przeznaczona dla początkujących graczy.
Seria VOLTRIC - kombinacja niesamowitej siły i zdumiewającej łatwości manewrowania, wprowadzi cię na zupełnie nowy poziom.Twardsze części ramy zwiększają sztywność rakiety, natomiast najbardziej obciążona głowica rakiety w całej serii Voltric dostarcza czysty i mocny zamach podczas smeczu. Aby zrównoważyć ciężką głowicę rakiety, została ona zmniejszona, po to by móc wykonać szybki zamach wymagany przez zaawansowanych graczy.
Stosowane tradycyjne rozwiązania, takie jak obciążanie dodatkowym ciężarem głowicy rakiety zwiększa jej moc uderzenia kosztem ograniczenia jej manewrowości, natomiast odciążenie głowicy rakiety przynosi efekt odwrotny. Dlatego też po raz pierwszy YONEX stosując nową technologię TRI-VOLTAGESYSTEM połączył dwie kontrastujące cechy, dużej mocy uderzenia oraz wyjątkowej manewrowości.
Voltric to siła
Sztywna konstrukcja głowicy rakiety w górnej jej części, pozwala lepiej kontrolować lotkę, natomiast cieńszy przekrój głowicy rakiet po obu jej stronach pozwala lepie transferować energię uderzenia. Taka kombinacja zapewnia maksymalną kontrolę mocy uderzenia.
Voltric to zwinność
VOLTRIC posiada innowacyjny system dzięki któremu balans jest umieszczony pomiędzy górną a dolną częścią głowicy rakiety. W rezultacie można jeszcze lepiej operować rakietą. Dodatkowo, cienki przekrój głowicy ramy w górnej jej części zmniejsza opór powietrza co skutkuje tym że nawet najmniejsze uderzenia mają swoją moc i siłę.
Diagram Wyboru rakiet badmintonowych YONEX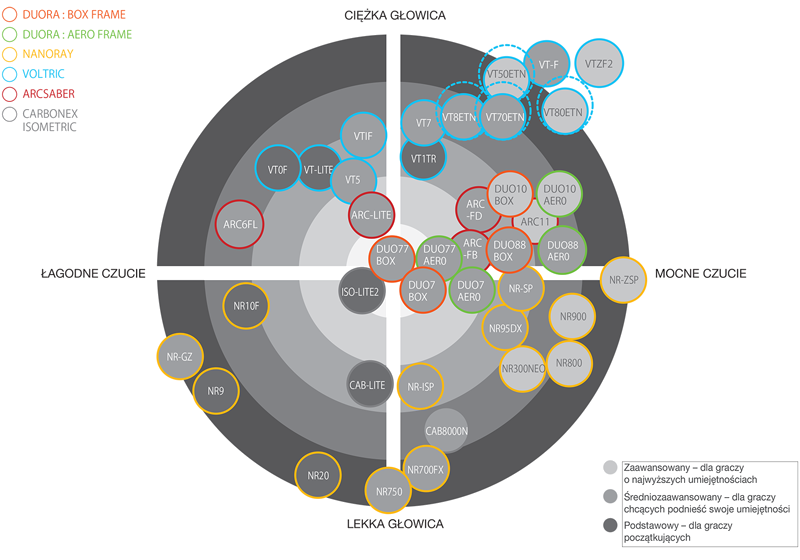 TECHNOLOGIE:
TRI VOLTAGE SYSTEM
Sztywna konstrukcja rakiety w górnej części główki pozwala lepiej kontrolować lotkę. Natomiast cieńsza rama w bocznych częściach główki pozwala lepiej przenosić energie uderzenia i redukuje opór powietrza, zapewniając tym samym wysoką moc ataku.
ISOMETRIC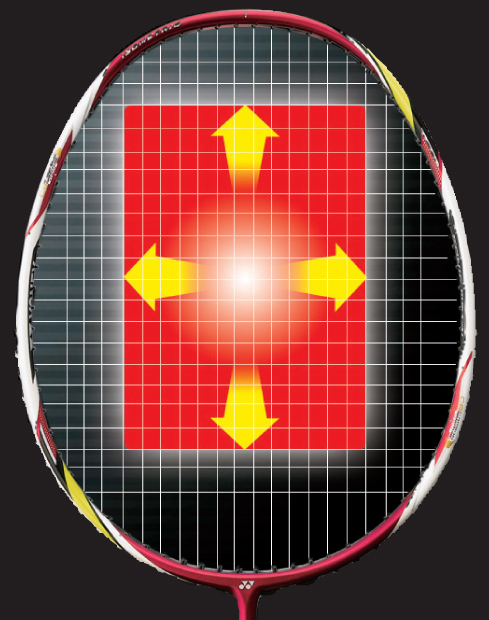 Izometryczny kształt główki zapewnia o 32% większy obszar efektywnego trafiania w porównaniu do tradycyjnych modeli. Sztywna konstrukcja, oraz wysoka manewrowość czyni rakietę świetnym wyborem do gry ofensywnej.
AERO+BOX FRAME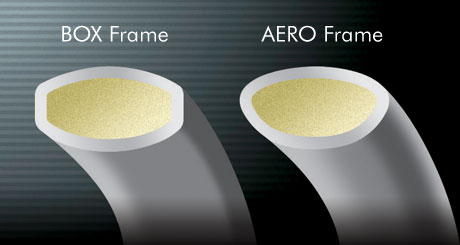 Tak wykonana rama łączy szybki zamach oraz wysoką dokładność uderzeń.
CONTROL SUPPORT CAP
Węższy niż w konwencjonalnych ramach gwarantuje szybsza zmianę uchwytu oraz wyższą manewrowość.
Materiał

:

RAMA - Graphite, Tungsten

,

SHAFT - H.T. Graphite

Pokrowiec

:

3/4

Waga

:

4U (80-84 g) / G4

Systemy

:

TRI-VOLTAGE SYSTEM

Owijka

:

Fabryczna

Przeznaczenie

:

Seniorzy

Rek. siła naciągu

:

8,5-10,5 kg

Naciąg

:

fabryczny