This product is available in our stores
You can buy this product without placing an order online at one of our stores in your area. Check where the product is in stock.
Check availability
Buty ASICS  z damskiej kolekcji butów treningowych. Wyjątkowo lekkie, zachowują jednocześnie elastyczność dzięki  MONO-SOCK FIT SYSTEM. Flagowa technologa Asics - GEL CUSHIONING SYSTEM gwarantuje komfort przy dynamicznych treningach oraz redukcję wibracji.
TECHNOLOGIE:
REARFOOT GEL SYSTEM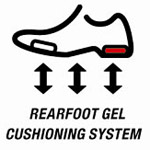 System amortyzujący ASICS Gel jest najbardziej znaną technologią firmy. Aby dostarczyć największej absorpcji wstrząsów, jednostki Gel zostały strategicznie ulokowane w środkowej części podeszwy buta. Do systemu amortyzującego ASICS Gel używa się różnych materiałów. W zależności od funkcji jednostki Gel zawierają silikon zamknięty w poliuretanowych kapsułkach . Kształt jednostek Gel także jest precyzyjnie projektowany w zależności od specyfiki funkcji i pozycji w podeszwie buta.
COMFORTDRY SOCKLINER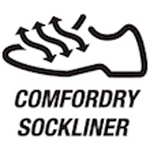 Trzywarstwowa wkładka podeszwy, gwarantująca lepsze dopasowanie do stopy, szybszą regenerację podeszwy, optymalną cyrkulację powietrza i działająca antybakteryjnie.
MONO-SOCK FIT SYSTEM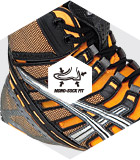 Elastyczny wewnętrzny system zastępujący tradycyjny "język" gwarantuje najwyższy komfort użytkowania.
Size chart
| Size | Adidas- Mens/Kids (cm) | Asics - Womens (cm) |
| --- | --- | --- |
| 37.5 | 23,5 | 23,5 |
| 38 | 24,0 | 24,0 |
| 39 | 24,5 | 24,5 |
| 39.5 | - | 25,0 |
| 40 | 25,0 | 25,5 |
Instrukcja pomiaru stóp i zestawy miar:
Wszystkie pomiary najlepiej wykonać centymetrem krawieckim
DS (długość stopy w cm) tę miarę można wykonać opierając piętę o stały przedmiot, podając długość stopy do końca palców.
UWAGA: Długość stopy należy podać dokładnie, bez 'zapasu'!