This product is available in our stores
You can buy this product without placing an order online at one of our stores in your area. Check where the product is in stock.
Check availability
Najnowsza rakieta firmy YONEX z modelu NanoRay. Dla graczy ofensywnych.
Diagram Wyboru rakiet badmintonowych YONEX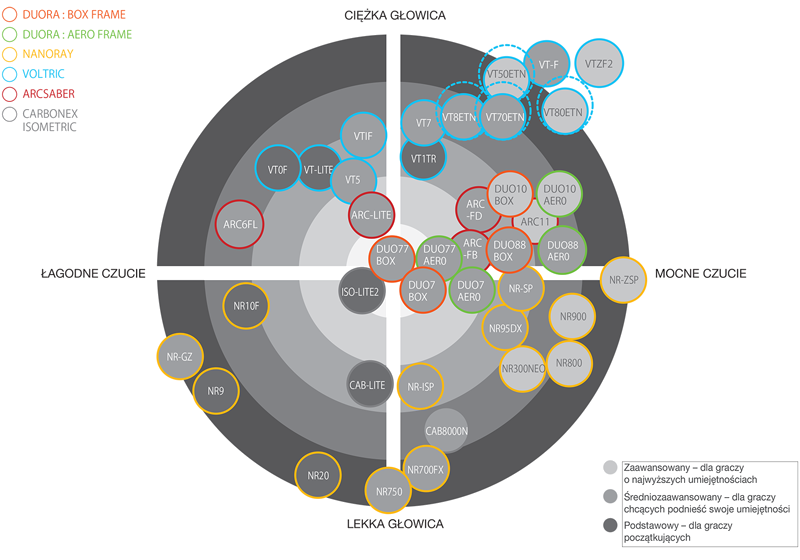 Technologie:

X-FULLERENE - Umiejscowiony w górnej części ramy X-fullerene łączy włókna węglowe w rewolucyjny sposób po przez wiązania krzyżowe. Zwiększając siłę wiązania w użytym materiale zapobiega skręcaniu ramy pod wpływem mocnych uderzeń. Zastosowanie tecgnologii X-Fullerene umożliwiło stworzenie cieńszej ramy w celu zmniejszenia oporu powietrza oraz zachowanie doskonałej manewrowości.


ISOMETRIC - izometryczny kształt głowicy maksymalizuje obszar przecięcia się strun głównych i poprzecznych, tworząc większy sweetspot. Zapewnia to bardzo stabilną i precyzyjną powierzchnię trafienia, nawet dla niecentrycznych trafień.

NEW Grommet Pattern - nowy system przelotek, w którym wykorzystuje się większą ilość otworów co powoduje bardziej wydajne wykorzystanie naciągu.

SOLID FEEL CORE  - system poprawia komfort gry po przez eliminacje szkodliwych wibracji. Jest on stosowany we wszystkich rakietach wyprodukowanych w Japonii.

New AERO Frame - zmniejsza opór powietrza i pozwala na szybszy zamach.

NEW Built-in T-Joint - nowo zaprojektowany lekki "New Built-in T-Joint" zbudowany z żywicy epoksydowej poprawia parametry ramy przez zmniejszenie kształtu i wagi oraz zwiększenie jej stabilności.

Super Slim Long Shaft - cieńszy Shaft wyprodukowany przez Yonex zmniejsza opór powietrza dając lepsze czucie.

Control Support Cap - jest węższy o 88%  niż w konwencjonalnych ramach dla szybszej zmiany uchwytu i lepszej manewrowości.
Balans

:

GH

Konstrukcja

:

Sztywna

Pokrowiec

:

Pełny

Rek. siła naciągu

:

8,5-10,5 kg

Waga

:

88 gramów

Główka

:

Isometryczny kształt

Systemy

:

Carbon Nanotube

Charakterystyka

:

Czucie

,

Dla zaawansowanych

Owijka

:

Fabryczna

Przeznaczenie

:

Seniorzy

Naciąg

:

fabryczny