This product is available in our stores
You can buy this product without placing an order online at one of our stores in your area. Check where the product is in stock.
Check availability
Damskie buty tenisowe ASICS GEL-SOLUTION SPEED 2 CLAY, zaprojektowane do gry na kortach ziemnych. W porównaniu do poprzedniego modelu Solution Speed 2 jest bardziej stabilny dzięki poszerzeniu podeszwy na śródstopiu a także na pięcie. Zmieniona konstrukcja mostka stabilizującego ( IGS ) zwiększa elastyczność podeszwy poprawiając komfort gry a także pozwala przyspieszyć reakcje buta na ruchy stopy. Nowy wzór i kształt podeszwy gwarantują lepszą przyczepność do podłoża oraz bardziej kontrolowane doślizgi do piłki. Cholewka wzmocniona materiałem syntetycznym z otworami wentylacyjnymi. Język pokryty meshowym materiałem dla większej wentylacji stóp.
TECHNOLOGIE:
REARFOOT AND FOREFOOT GEL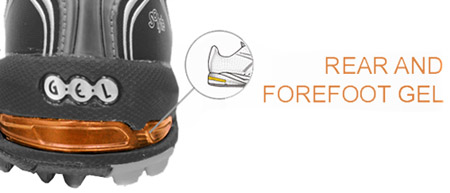 System amortyzujący ASICS Gel jest najbardziej znaną technologią firmy. Aby dostarczyć największej absorpcji wstrząsów, jednostki Gel zostały strategicznie ulokowane w środkowej części podeszwy buta. Do systemu amortyzującego ASICS Gel używa się różnych materiałów. W zależności od funkcji jednostki Gel zawierają silikon zamknięty w poliuretanowych kapsułkach . Kształt jednostek Gel także jest precyzyjnie projektowany w zależności od specyfiki funkcji i pozycji w podeszwie buta.
I.G.S. - IMPACT GUIDANCE SYSTEM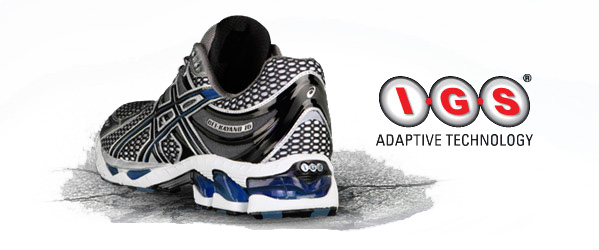 Opracowany przez ASICS system jest rozwiązaniem, dzięki któremu zachowana jest możliwość naturalnych ruchów stopy. Ten rewolucyjny wieloskładnikowy system daje stopom swobodę, dzięki której możesz wykorzystać swój pełen potencjał sportowy. System wspomaga ruch w sposób, który można podzielić na 3 fazy.
PGUARD

Wzmocniony element gumowy dołączony do przedniej części podeszwy, zapewnia większą trwałość i ochronę przed urazami mechanicznymi.
FLEXION FIT VAMP
W górnej części buta dostarcza większego komfortu i lepszego dopasowania. Ponadto ogranicza możliwość podrażnień stopy, ponieważ budowa materiału pozwala na odkształcenia bez negatywnego wpływu na dopasowanie.
PHF (PERSONALIZED HEEL FIT)

Dwie warstwy specjalnej, dopasowującej się do stopy pianki, umieszczone w zapiętku buta w celu indywidualnego dopasowania i wyższego komfortu.
SOLYTE MIDSOLE MATERIAL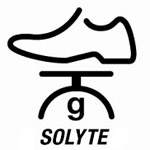 Bardzo lekki i trwały materiał podeszwy środkowej. Solyte podnosi komfort i poprawia amortyzację poprzez zastosowanie trzech różnych gęstości materiału: gęstość 45 dla wysokiej amortyzacji i elastyczności podeszwy, gęstość 55 dla większej sztywności i stabilności w celu zwiększenia tempa biegu, gęstość 65 w celu zwiększenia sztywności, aby zminimalizować proces deformacji podeszwy.
Size chart
| Size | Adidas- Mens/Kids (cm) | Asics - Womens (cm) |
| --- | --- | --- |
| 37 | 23,0 | 23,0 |
| 37.5 | 23,5 | 23,5 |
| 38 | 24,0 | 24,0 |
| 39 | 24,5 | 24,5 |
| 39.5 | - | 25,0 |
| 40 | 25,0 | 25,5 |
Instrukcja pomiaru stóp i zestawy miar:
Wszystkie pomiary najlepiej wykonać centymetrem krawieckim
DS (długość stopy w cm) tę miarę można wykonać opierając piętę o stały przedmiot, podając długość stopy do końca palców.
UWAGA: Długość stopy należy podać dokładnie, bez 'zapasu'!
Typ nawierzchni

:

Typ nawierzchni na której zalecane jest użytkowanie buta.

Ceglana (Clay)